Commercial Hurricane Window Clips
Aluminum Commercial Window Clips: The Best Solution for Hurricane Hardware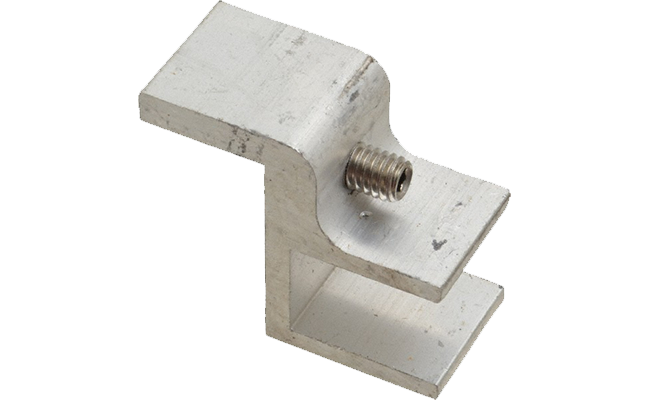 PLYLOX ™ Commercial window clips are used to fasten 3/4" plywood to your commercial store front without drilling holes into the structure or causing permanent damage.
PLYLOX ™ Commercial window clips are made with very tough, rugged extruded aluminum to last for many years of use and abuse.
PLYLOX ™ Commercial window clips are designed to work on aluminum store front  & other commercial window frames that are 1 ½" deep, using a set screw to hold tension between the opposing aluminum frames.
Have been independently lab test and real world proven.
PLYLOX window clips are rugged and will last year after year. If you move, take them with you.
Benefits of PLYLOX ™ Aluminum Window Clips
Strength: Aluminum window clips are strong and can withstand harsh weather events, giving you peace of mind that they will stay intact all year round.
Protection: Using window clips secures plywood over your window, protecting them from high wind and airborne objects. This is vital during storm and hurricane season, when winds can achieve incredible speeds and cause damage to windows.
Affordability: Aluminum window clips cost as little as $29.95, which is easy to work into your business budget.
Easy Installation: Window clips take seconds to install, leaving you plenty of time to focus on your business.
Why You Need PLYLOX ™ Window Clips
Tornados: It can be stressful to live in tornado country, because you never know when a tornado might touch down. Commercial window clips allow you to quickly and easily secure your windows whenever it becomes necessary.
Hurricanes: The ease and simplicity of our window clips helps protect your property as quickly as possible. Hurricanes bring intense winds, flying projectiles, and other hazards that make it necessary to reinforce your windows.
High Wind: Not only do winds themselves pose a threat, they can blow other objects into your windows and cause them to break. Protecting your windows with our window clips adds an extra layer of protection.
Hail: Hail can cause all kinds of damage to our vehicles, outdoor merchandise, and our vulnerable windows! Use our commercial window clips to protect against more violent hail storms.
Airborne Objects: Strong winds, tornadoes, hurricanes, and storms can all blow objects down. Keep your windows protected from flying mailboxes, signs, or heavy objects by securing them using our commercial window clips.